News
2016 Classes Are Open!
---
New store hours on Saturdays 10:00 am – 4:00 pm.
News:
Blocks of the Month: We have several new blocks of the month starting up. Gossip in the Garden by Hatched and Patched will start in February and a new Kaffe Block of the Month will be coming soon! We also have a new Block of the Month Class for those who are working on one of our block of the months and need help. Class time is the 2nd Thursday of the month from 1:00pm – 4:00pm.

Glorious Hexagons – come work on your favorite English Paper Piecing Project. We meet once a month on the first Thursday from 2:00pm – 4:30pm.

The Mystery of the Salem Quilt Guild is a mystery quilt from Crabapple Hill. If you love hand embroidery and Halloween, you will want to join in on this new project and stitching group. Club Meets the 3rd Tuesday of the month from 10:00am – 1:00pm.


Super Bowl Sunday – February 7, 2016, 12:30pm – 5:00pm.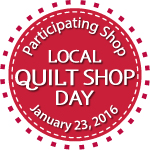 Enroll Online!
To make it easier for you to sign up for our classes, we're now offering online class enrollment. Of course, you can always call, e-mail, or stop by the shop) to sign up for any of our classes or events.

Tip of the Week
click here